Case study
Celebrating a Decade of Leveraging Successful Social Insights with Arrow Fastener
It has been almost a decade since the Do-It-Yourself (DIY) home improvement sector began preparing for a digital future. The spread of social media, e-commerce, and mobile devices gave DIY enthusiasts easy access to information and tutorials online, enabling them to pursue their passions. Soon enough, digital platforms and resources became indispensable, initiating the industry's digital transformation. At the forefront of this digitization was Arrow Fastener, an iconic American brand specializing in building and fixing equipment (DIY aficionados might know them for their best-selling staple gun, the T50).
Arrow Fastener understood the growing importance of social media and its ability to uncover consumer sentiments about their brand. At the time, however, no conscious efforts were being made towards evaluating the brand's health through social media. Arrow Fastener wanted to change that: their goal was to not only find out what consumers are saying about their brand online, but to integrate their learnings into their marketing strategy and ultimately ensure the brand's success. To do this effectively, they needed a robust measurement system from which they could derive actionable insights within the social media landscape. Enter, Brand Fame.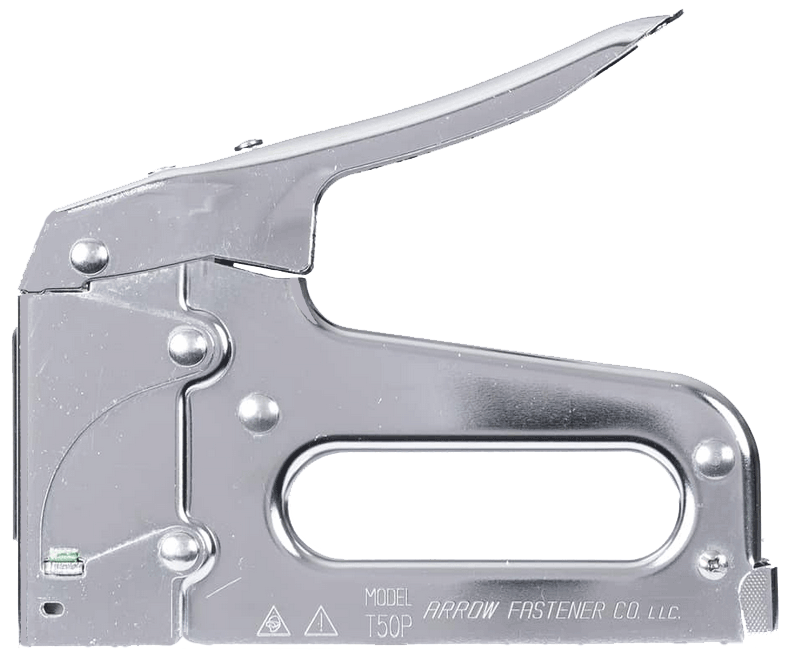 The internet is cluttered with seemingly limitless information. Unsurprisingly, there are millions of online posts containing the search term "arrow," and less than 1% of this is relevant to our client's brand perception. Our first step was to devise a search strategy that filters out all conversations that is irrelevant to Arrow Fastener and its competitors, allowing us to focus solely on the conversations that matter.
We then cleaned up and enriched the data further with the help of our Brand Fame solution. Bringing together the best of artificial intelligence (AI) and human intelligence, Brand Fame helps brands get to the core of what their consumers are saying about them on social media.
High-quality data obtained allows for a holistic understanding of brand health and is predictive of changes in future sales, enabling a high degree of actionability. The solution can be integrated with survey-based equity trackers and can also be implemented as an independent tracker.
Not only does this innovative solution leverage the rapidly evolving capabilities of AI, but it also incorporates human intelligence to accurately decipher the nuances of human emotion. For example, sarcasm and colloquialisms are commonly used on social media, and while AI may not be able to recognize the true feeling behind them, the human eye definitely can.
Apart from offering diagnostic insights, Brand Fame also presents its results in an easy-to-understand, single-score metric. Our analysts code the data collected across 3 key dimensions:
1. Coverage: This dimension unpacks the reach, volume, and source of unique contributors to the posts and online conversations about the brand.
2. Sentiment: This dimension looks at what exactly is being said about the brand and the sentiment behind these conversations. It incorporates the impact of the tone of voice, brand perception, and product feedback.
3. Importance: This dimension examines the people behind the conversations and their influence, as well as the channels being used and how they impact the messages' amplification.
Together, these 3 dimensions make up the Brand Fame score: a single score ranging from -100 to 100 that reflects the brand's strength and offers granular insights into everything from products and events to campaigns and influencers. Think of it as a faster, more accurate, and extensive version of the net promoter score, with results delivered in near real-time.
By tailoring their strategy to the evolving social media landscape and the insights offered by Brand Fame, Arrow Fastener has grown into an undisputed market leader. Today, Arrow Fastener boasts the best brand perception amongst competitors, reflected by a Brand Fame score that has skyrocketed by 460% over the last 10 years.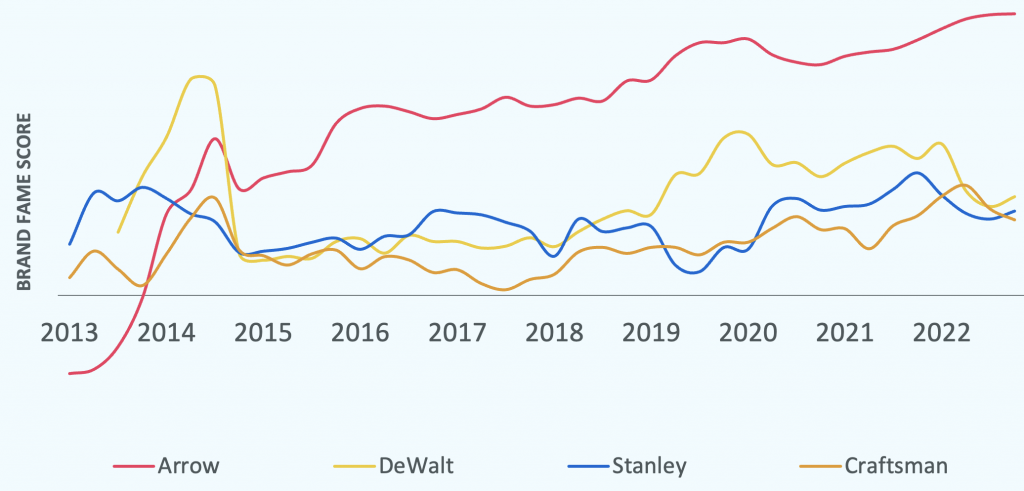 Integrating the solution's insights helped Arrow Fastener seamlessly transition into a more customer-centric organization and revolutionize their approach to decisionmaking. The solution's comprehensive reporting system spans various marketing aspects, such as brand portfolio, pricing, and product – empowering marketing managers to pinpoint critical factors contributing to Arrow Fastener's online brand perception. As a result, Arrow Fastener can make informed decisions at all levels and fine-tune their practical approach.
Arrow Fastener acknowledges Brand Fame's unique value – from its ability to provide prompt diagnostic insights and consumer feedback to the distinctive combination of AI and human intelligence that sets it apart from other market offerings. Here's what Bill Sokol has to say:
What Arrow told us
"Arrow Fastener has always valued feedback from our PRO contractor and DIY customers, but before partnering with MetrixLab Social Insights we were seeing those inputs piecemeal, without a holistic view. Using Brand Fame enabled us to gather those insights and understand them in a way we never could before. By strategically linking incoming consumer-generated insights with our outbound marketing and product development efforts, we were able to fine-tune our marketing campaigns and new product programs to deliver more of what our customers want – the way they want it." says Bill Sokol, Vice President, Marketing, Arrow Fastener.