Packaging design needs to grab consumers'attention, communicate the 'what and why', and persuade them to buy. The challenge is that these three roles can be conflicting.
In our experience of testing packing designs, we frequently come across designs that excel in one of these three roles, but at the detriment of the other two roles.
For example, a product like Mountain Dew has fantastic visibility, especially its PET bottles, courtesy of its neon-yellow-green color. However, it is exactly this element which puts consumers off trying the brand.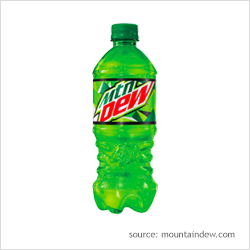 You might also want to use photography on your packaging to catch the consumer's eye, for example a photo showing your product in use. However, this can take away from ease and speed of brand recognition and persuasion.
Unfortunately, there is no magic formula to help you create a well-balanced packaging design with powerful visibility, communication and persuasion. So, this is where creativity and art meet science and data.
There are two things that can help you increase your chances of creating a well-balanced design:
Identify the specific strong and weak elements of your current design, relative to key competing designs. You can then include these in your design agency brief.
Adopt a quick 'design – test – learn' iterative cycle. Each cycle should be no more than four weeks long. Testing should be done through a single solution that combines behavioral simulation, and implicit, explicit and visual metrics for a holistic overview of the power of your packaging design.
Contact us to get started with testing your packaging design. We can help you create, optimize and validate your creative through our PACT suite of research solutions.
More tips for creating amazing packaging designs
Review all our packaging design tips in our short video below, or read our whitepaper for more in-depth guidelines on creating powerful packaging designs. Use these best practices to design your own packaging, to self-assess your current designs, or to inform your design agency brief.
You can also find out how to optimize your design through congruence and a unified line in our blog; or contact our experts for more advice.